Looking for all the Easter hoppenings in Columbus? You've come to the right place! NE Columbus Macaroni Kid has been hopping about collecting all the information on all the ways to celebrate Easter in Columbus just for you!
Our goal is to make sure you and your family don't miss out on any Easter fun in NE Columbus! So here is a list of all the Columbus Easter events, crafts, recipes, and fun we can find! We'll be updating this list often as more events come in, so check back often!
Now let's hop to it.
---

🐰Easter Events in Columbus🐰
March 24
🐰3D Easter Scene Craft at The Five (Sponsored)
🐰 Spring MAKE Camp: Egg Paint Reveal Canvas (REGISTER) with Michaels
March 27
🐰Easter Bunny Event at The Five (Registration Required) (Sponsored)
🐰Eggstravaganza - Free Community Easter Egg Hunt
🐰Eggstravaganza 2021 at Blacklick Woods, Battelle Darby Creek, Blendon Woods, Highbanks, Homestead and Slate Run (Registration Required)
🐰Easter Egg Trunk Hunt in Delaware (Registration Required)
April 3
🐰Easter Egg Hunt at Compassion!
🐰Eggs, Paws and Claws (Registration Required)
🐰Kiwanis Easter Egg Drive-through
---

🐰At-Home Easter Fun🐰
Looking for at-home Easter fun ideas in Columbus? Here are some of our favorites:
How to Make Natural Dyes For Your Easter Eggs
STEM Craft: Fizzy Dinosaur Eggs Are Fun to Make -- and Break
Quick Kitchen Science - Bouncy Egg Experiment
---
🐰Easter Eats🐰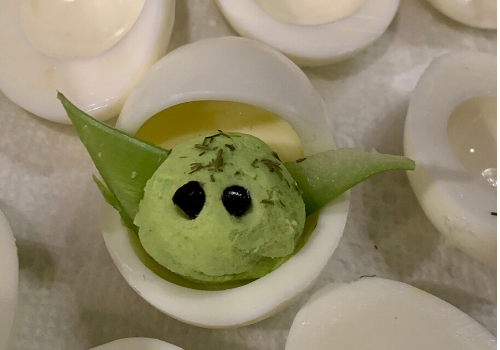 There's nothing better than the food on Easter! But what do with all those eggs? Here are some fun Easter-related recipes from NE Columbus Macaroni Kid and Macaroni Kid EATS!:
Craft a Snack: Egg Funny Faces
Craft a Snack: Make Your Own Bunny Waffles!
Recipes and Ideas for Leftover Hard-Boiled Eggs
3 Easy Easter Treats You Can Make With Your Kids
Food With Imagination: Baby Yoda Deviled Eggs
---
If you haven't signed up for the Free NE Columbus Macaroni Kid weekly eNewsletter filled with fun things to do with kids every week; now's the time! You'll receive all of the local kid activities and daily event ideas happening around town delivered to your inbox every Monday night so that you can plan your week & weekend. AND, we have the holiday events listing too, so you don't miss out on any fun! Subscribe Now and stay in the know with fun activities for kids and things to do! North & NE, East Columbus parent's go-to resource for seven years and counting!
NE Columbus Macaroni Kid is a free weekly newsletter and website focused on fun family events and information on Columbus' north, northeast, and east side and surrounding areas. I gather all kinds of local family events and activities to do with kids each week and add useful information about classes, family-focused businesses, book and product reviews, recipes, crafts, school, and seasonal guides and more. For almost ten years we have been proudly serving families in Lewis Center, Worthington, Sunbury, Westerville, Gahanna, Galena, Columbus, Bexley, New Albany, Pataskala, Blacklick, Johnstown, Reynoldsburg, Clintonville, Polaris area, downtown, and surrounding areas!